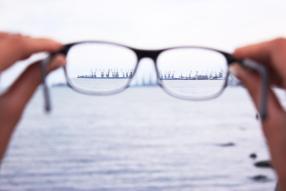 What is Nearsightedness?
Nearsightedness, myopia, is the most common cause of vision problem in people under the age of 40. The number of people with nearsightedness continues to grow. Just a few decades ago, the number of Americans with myopia was about 25%. Today, over 40% of Americans are nearsighted. In fact, it is projected globally that 50% of the world's population will be myopic by 2050.
Signs and Symptoms of Myopia
Children who are nearsighted often struggle to see things on the board at school or are unable to see things like a clock or television clearly. Adults, typically struggle seeing road signs or recognizing faces across a room. Individuals may squint to see these distant objects. However, these people will be able to see well for near tasks such as reading and working on a computer.