3 minutes reading time
(557 words)
Fireworks Safety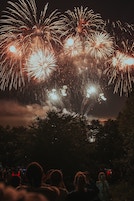 This week, we will celebrate the commemoration of the Declaration of Independence of the United States of America on July 4, 1776. Our forefathers let Great Britain know that they considered themselves 13 individual sovereign states, independent of foreign rule.
Now 243 years later, this holiday is synonymous with cookouts and fireworks. The cookout portion of this celebration is probably not great for our waistline...think burgers and brats along with great side dishes and desserts. The fireworks that often follow the cookout can cause serious injury. The purpose of this week's blog is to discuss some facts about fireworks injuries and what we can do to avoid them.

With the risk of fireworks injury, comes the risk of eye injuries. There were nearly 13,000 emergency room visits related to fireworks in 2017. About 35% of these injuries occurred to children under 15 years of age. Males of all ages accounted for 70% of the injuries. More than 44% of injuries are burns.
Below is a breakdown of the most injured body parts from fireworks.
• Hands and fingers 28%
• Legs 24%
• Eyes 19%
• Head, face and ears 15%
• Trunk and other 10%
• Arms 4%
Often thought of as a safe firework for children, sparklers burn at temperatures up to 2000 degrees Fahrenheit. This is a temperature that is capable of melting most metals. Burns from sprinklers account for around 16% of all fireworks injuries.
Follow these simple tips to be as safe as possible this 4th of July.
• Never allow young children to play around or ignite fireworks.
• Make sure fireworks are legal in your area.
• Light fireworks one at a time.
• Never place any part of your body directly over a firework while light it.
• Always backup a safe distance immediately after lighting a firework.
• If a firework does not ignite fully, never try to re-light it or pick it up.
• Never point or throw fireworks at another person.
• Have water, either a garden hose or bucket of water, available in case of fire.
• Do not shoot off fireworks in metal or glass containers.
• After a firework has been burnt, douse it with water to prevent a trash fire.
If you or someone you know suffers a firework injury, you should seek medical attention immediately. Prompt care can be critical depending on the type of injury.
The safest way to enjoy fireworks this 4th of July is a public display. The professional technicians put on these fireworks displays in an environment that nearly eliminate the risk of injury to spectators. Less then 1% of fireworks injuries occur at public fireworks displays. These rare injuries occur because of the erratic and unpredictable nature of fireworks.
Summit Eye Center hopes everyone enjoys a safe, fun 4th of July with family and friends. It a great time to take a pause from the hustle and bustle of our daily routines and enjoy the company of those around us. It is also a time to reflect on the men and women responsible for making our country so great, from colonial times to the present. Stay safe!
The following link is a pretty comprehensive list of public fireworks displays both on the Missouri and Kansas side of the Kansas City metro area.
https://www.kmbc.com/article/fourth-of-july-fireworks-events-information-for-kansas-city-area/28110026