4 minutes reading time
(723 words)
Light Adjustable Lens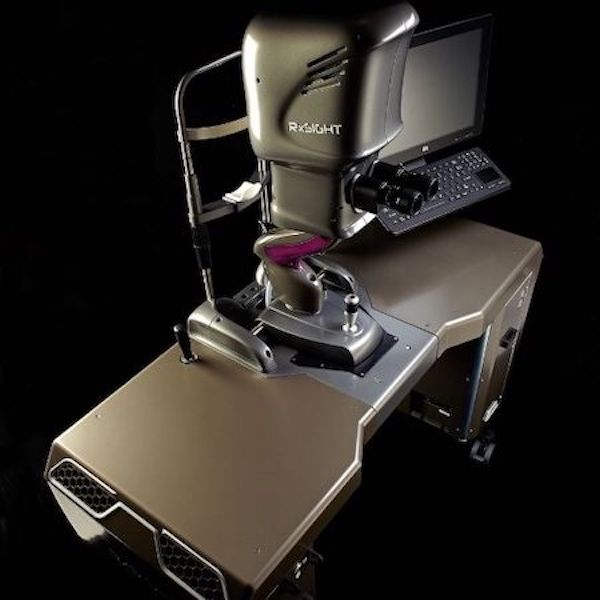 Summit Eye Center is proud to offer the first lens that can be customized after a person has cataract surgery, the Light Adjustable Lens from RxSight. This is the only available lens that allows optimization of a patient's vision after healing from the surgery. This allows each patient to have customized vision based on his or her unique visual needs.
As with typical cataract surgery, the first step is the removal of the cataract by the surgeon. Then, the Light Adjustable Lens is implanted. These steps are exactly the same as if the patient had selected a non-adjustable lens.
What is different about the Light Adjustable Lens?
After your eyes have healed from cataract surgery, you return to Summit Eye Center to have your vision tested. At this visit, the doctor will be able to show you different vision outcomes based on your unique preferences and the visual demands that match your lifestyle. You will be able preview these options with handheld lenses in the exam room. The doctor will then apply a light treatment that precisely reshapes the lens implant based your custom prescription. You may need 2-4 total light treatments over a period of 1-3 weeks to reach your visual goals.
How does the Light Adjustable Lens work?
This lens is made of a special photosensitive material that changes shape and power in response to ultraviolet (UV) light. This is done via treatments at Summit Eye Center with a special instrument called the Light Delivery Device. At these treatments, your eyes are dilated to allow the light to be shown onto the entire lens.
For the light treatment, you will be placed in front of the Light Delivery Device. This device gently delivers UV light to the Light Adjustable Lens to adjust your vision to the desired outcome. This system allows the patient and the doctor to make adjustments and refinements to meet each patient's unique demands.
Following your light treatment, you will be seen again in 3-5 days to assess your vision. Between 2-4 total light treatments are required in the average patient. These treatments take about 90 seconds. Your time at the office is longer though because you and the doctor will preview different treatment options with handheld lenses prior to the treatment. Your pupils will also have to be dilated prior to the treatment. The treatments are separated by a minimum of 3 days. When you have received your optimal vision, the lens is permanently locked in with a final light treatment to prevent any further changes.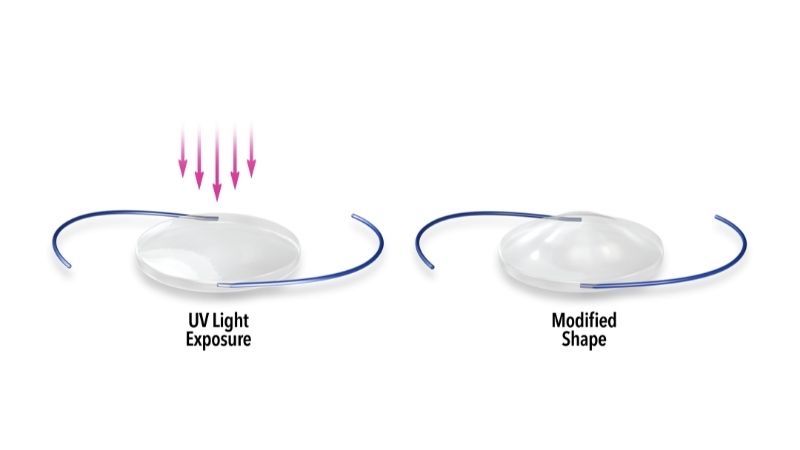 What should I expect following my cataract surgery?
Since this lens is able to adjusted by light treatment following surgery, there are 2 major differences following surgery when compared to a non-adjustable lens implant:
You are required to wear ultraviolet (UV) protective glasses
You need to complete the light treatments at Summit Eye Center
Why do I need ultraviolet (UV) protective glasses?
Exposure to indoor and outdoor sources of UV light can cause uncontrolled changes to the Light Adjustable Lens. The UV protective glasses that you will be provided after your surgery will prevent any unwanted change to the lens implant. These glasses are to be worn during all waking hours following your surgery until your last light treatment is applied. These glasses can be removed when sleeping, showering, washing your face or using eye drops as long as you are not exposed to direct sunlight. 24 hours after your final light treatment, no further changes can be made to the lens implant, and you can remove your UV glasses and enjoy your custom vision.
We are excited to offer this unique technology to our patients. The Light Adjustable Lens is the first lens to truly offer customizable vision for patients after cataract surgery.
Summit Eye Center is a comprehensive ophthalmology practice located in Lee's Summit, MO. The doctors are available to meet your medical and surgical eye care needs. Call 816-246-2111 or email This email address is being protected from spambots. You need JavaScript enabled to view it. to schedule an appointment.