1 minute reading time
(242 words)
Summit Eye Center Spotlight: Katja Guyton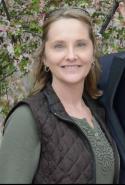 November's "Summit Eye Center Spotlight" features Katja Guyton, COA. She has been a technician at Summit Eye Center for 10 years. Straight out of Germany...here are some fun facts about Katja.
Where did you go to high school? Hanau, Germany
Other education: Physician Assistant Degree
Tell us something interesting about yourself: I am used to driving my car 220km/h on the German highways.
Tell us something about your family: My husband John and I have raised 3 great children and now are happy grandparents.
Tell us about your parent's occupations: My mother has passed and my father is retired
Why did you choose a career at Summit Eye Center: It always feels like family!
What aspects of your professional life do you find the most rewarding? Helping people is something I have always enjoyed. Helping someone see the world clearer is very rewarding!
What do you enjoy to do in your free time? Horseback riding, fishing, traveling, junking/antiquing, and scrapbooking keep me busy. I love DIY projects as well.
What is your favorite movie and/or TV show? I have always loved old movies...Doris Day and Rock Hudson. I also enjoy watching Greys Anatomy.
What is your favorite food? Anything Seafood!
What is your favorite song, artist or band? I listen to different genres, but old time Country Music is still my favorite.
Conclude with anything else you would like people to know about you: I love primitives and old simpler times.