2 minutes reading time
(403 words)
Summit Eye Center Spotlight: Lisa Foote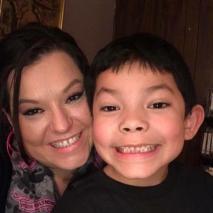 January's "Summit Eye Center Spotlight" features Lisa Foote. She is the newest addition to the Summit Eye Center team, joining the practice in August 2018. Here are some fun facts about Lisa.
Where did you go to high school? Ray-Pec High School
Tell us something interesting about yourself: I have a passion for helping animals. I have 2 dogs, 2 cats, 1 guinea pig and 1 rat. I really should live on a farm. If Old McDonald needs help...I'm in!
Tell us something about your family: I'm the mother of a very energetic 9 year old. He is a tiny tornado that is the center of my world. He loves science stuff. As a result, I have cleaned up multiple science experiments that have gone wrong. We have lots of fun before the explosions, but for some reason he disappears when its time to clean up the mess. Currently, he says he wants to join the Army when he grows up.
Tell us about your parent's occupations: My mother is a homemaker and my father is a retired journeyman pipefitter. My father worked hard all of his life to provide for our family. Now my parents are relaxing and loving life at Truman Lake.
Why did you choose a career at Summit Eye Center: Dr. Skelsey let me watch cataract surgery a few years ago. After watching that, I knew I wanted to work at a surgical practice. Dr. Skelsey is a brilliant surgeon and I look forward to learning as much as I can while working at Summit Eye Centers. I did ask if he would consider seeing any furry patients, but he respectively declined, saying he preferred having conversations with his patients.
What aspects of your professional life do you find the most rewarding? Working with patients is my biggest reward. I want to make sure each patient feels like every question and concern is answered, so that they can feel confident that we care about their individual needs.
What do you enjoy to do in your free time? When I'm not cleaning up after my son and animals, I enjoy relaxing and curling up with a warm drink while reading a good book.
What is your favorite movie and/or TV show? Taming of the Shrew
What is your favorite food? Fried Chicken and mashed potatoes
What is your favorite song, artist or band? Bob Seger and Eddie Rabbit