2 minutes reading time
(358 words)
Summit Eye Center Spotlight: Penny Peterman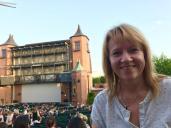 October's "Summit Eye Center Spotlight" features Penny Peterman, COA. She has been a technician at Summit Eye Center for 5 years. She is also our resident thrill seeker, as you will see while learning more about Penny.
Where did you go to high school? Hickman Mills High School in Kansas City, MO
Other education: Certified Ophthalmology Assistant
Tell us something interesting about yourself: I enjoy learning how to do fun and different activities...especially if it involves vehicles! I have a motorcycle license, have taken private pilot lessons and flown solo. I can also drive a boat and pull the trailer that carries it to the lake. I have driven a semi...no 45-foot trailer attached. My ambition is to drive a racecar on a track so I can go really, really fast.
Tell us something about your family: I have a wonderful son that lives here in Kansas City. I am fortunate enough to have my family close by. My grandmother turns 100 years old this month!!
Tell us about your parent's occupations: My parents are both retired.
Why did you choose a career at Summit Eye Center: I enjoy working in the medical field. The entire staff is made of caring people, who are experienced in their field.
What aspects of your professional life do you find the most rewarding? I love that I work close to home and feel fortunate to work with people who I consider my friends. We all work as a team and give the best care possible to our patients. Working with people to help them "see the world" is very rewarding.
What do you enjoy to do in your free time? I enjoy making stained glass, scrapbooking and other crafts. I also love listening to music.
What is your favorite movie and/or TV show? Big Bang Theory...Knock, Knock, Knock--Penny
What is your favorite food? Pizza!
What is your favorite song, artist or band? My favorite song right now is "Sound of Silence" by Disturbed, but anything by Journey or Queen are my all time favorites.
Conclude with anything else you would like people to know about you: I'm an "eye" nerd!