6 minutes reading time
(1149 words)
So Many Choices...What Drops are Best for My Dry Eyes?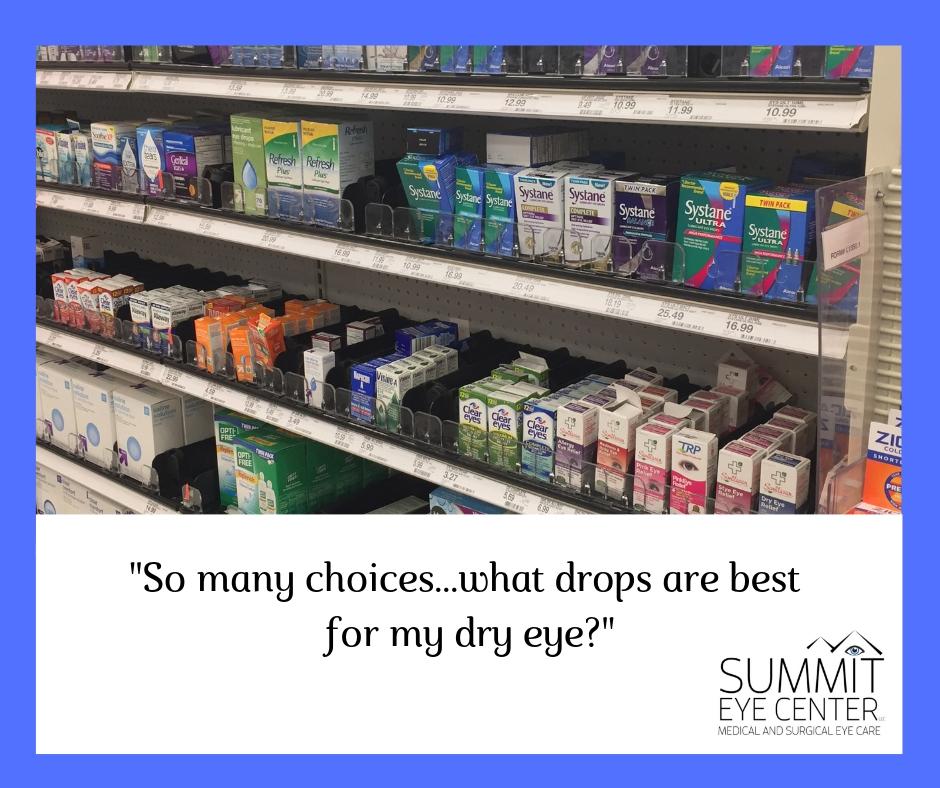 If you suffer from dry eye, you have without a doubt used artificial tears at some point in the treatment of this condition. When you go to the pharmacy to purchase these drops, you likely experienced a stimulus overload with all of the various artificial tears on the market. Hopefully, this week's blog along with direction from your doctor will help you better navigate the dry eye aisle at your local pharmacy.
Artificial tears are typically the first-line treatment for many causes of eye irritation, especially dry eye. They can be broken down into two major types – those that supplement the watery part of the tear film and those that supplement the oily part of the tear film. Depending on which component of the tear film is lacking, your doctor can direct you to the appropriate type of artificial tear. The majority of dry eye is caused by a deficit in the oily component of the tear film. Therefore, when in doubt those that help replenish the oily part of the tear film are a good choice.
Another way to differentiate artificial tear products is preserved versus non-preserved. The easiest way to distinguish between these two groups is that non-preserved artificial tears are going to be sold in individual vials rather than a bottle. If you use your drops more than four times a day or if you are on other medication eye drops, non-preserved artificial tears may be worth considering due to the fact that in some people frequent use of eye drops with preservatives can be irritating to the eye.
You also may wonder if the store brands are the same as the name brands. The short answer is NO. The active ingredients among various brands of artificial tears may be the same, but if you look at how much of each drop contains the active ingredients, you will see that it is less than 5% of each drop. Therefore, the proprietary formulations that make up the vehicle, or "filler", of each drop differ from brand to brand. A simple way to prove this to yourself is to place a drop of two different artificial tears on each of your index fingers and compare the feeling as you rub the drop between your finger and thumb.
The following list is a breakdown of many of the companies that make artificial tears and the various different drops within their portfolio. This list does not include all products available, but gives you enough information to feel more confident the next time you go to purchase artificial tears. If you have any questions about artificial tears, dry eye treatment or any other eye related questions, feel free to contact Summit Eye Center at 816-246-2111 or email This email address is being protected from spambots. You need JavaScript enabled to view it..
Refresh Products
• Refresh Optive and Refresh – replenish the watery component of the tear film with minimal blur and come in both preserved and non-preserved versions
• Refresh Optive Advanced – replenishes the oily component of the tear film with minimal blur and come in both preserved and non-preserved versions
• Refresh Optive Mega-3 – replenishes the oily component with natural oils including flaxseed oil in a non-preserved formulation
• Refresh Repair – replenishes the watery component of the tear film and also helps protect the corneal surface from osmotic changes and comes in a preserved bottle
• Refresh Celluvisc – a thick gel that provides extended relief and coverage of the ocular surface in a non-preserved formulation
• Refresh PM – an ointment that provides overnight relief in a non-preserved formulation for eyes with nighttime dryness
Systane Products
• Systane Complete – replenishes both the oily and watery components of the tear film in a preserved bottle
• Systane Balance – replenishes the oily component of the tear film in a preserved bottle
• Systane Ultra – replenishes the watery component of the tear film in both preserved and non-preserved formulations.
• Systane Gel Drops – a gel based drop that provides extended relief and coverage of the ocular surface in a preserved bottle
• Systane Gel – a gel that provides extended relief and coverage of the ocular surface with less blurring than an ointment in a preserved tube
• Systane Nighttime – an ointment that provides overnight relief in a non-preserved formulation for eyes with nighttime dryness
TheraTears Products
• TheraTears – replenishes the watery component of the tear film in both a preserved and non-preserved formulation
• TheraTears Extra – replenishes the watery component of the tear film in a hypotonic and electrolyte balanced preserved formulation
• TheraTears Liquid Gel – a gel that provides extended relief and coverage of the ocular surface in a non-preserved formulation
Blink Products
• Blink Tears Mild-Moderate Dry Eye – replenishes the watery component of the tear film in both a preserved and non-preserved formulation
• Blink Tears Moderate-Severe Dry Eye – a gel based drop that provides extended relief and coverage of the ocular surface in a preserved bottle
Soothe Products
• Soothe XP – replenishes the oily component of the tear film with minimal blur come in both preserved and non-preserved versions
• Soothe Hydration – replenishes the watery component of the tear film in both preserved and non-preserved versions
• Soothe Nighttime – an ointment that provides overnight relief in a non-preserved formulation for eyes with nighttime dryness
Oasis Products
• Oasis Tears – replenishes the watery component of the tear film in both preserved and non-preserved versions
• Oasis Tears Plus – replenishes the oily component of the tear film in a non-preserved formulation
Retaine Products
• Retaine MGD – replenishes the oily component of the tear film utilizing electrostatic attraction to stabilize the tear film in a non-preserved formulation
• Retaine HPMC – replenishes the watery component of the tear film in a proprietary airless application system that allows a non-preserved multiuse bottle
• Retaine PM – an ointment that provides overnight relief in a non-preserved formulation for eyes with nighttime dryness
Genteal Products
• Genteal Mild – replenishes the watery component of the tear film in a preserved formulation
• Genteal Moderate – replenishes the watery component of the tear film in both preserved and non-preserved formulations.
• Genteal Severe Gel – a gel that provides extended relief and coverage of the ocular surface with less blurring than an ointment in a preserved tube
• Genteal Severe Ointment – an ointment that provides overnight relief in a non-preserved formulation for eyes with nighttime dryness