3 minutes reading time
(590 words)
Mediterranean Diet and Your Eyes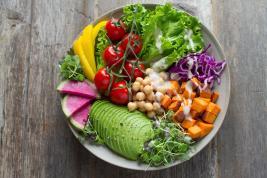 Age-related macular degeneration (AMD) is a leading cause of blindness in the United States. Much research has been done looking at nutrition and its role in the development and progression of AMD. One of these studies, published in Ophthalmology, demonstrated that people following a Mediterranean diet decreased their risk of late-stage AMD by 41%. There is also a decreased incidence of AMD in those who adhere to a Mediterranean diet. These reports build upon previous studies and suggest that everyone could benefit from a Mediterranean diet...whether you have AMD or are at risk of developing AMD.
What is the Mediterranean Diet/Lifestyle?
This is a diet that consists of commonly eaten foods found in the coastal areas of countries that border the Mediterranean Sea, such as Greece, Italy, Spain, France and Northern Africa. This diet is rich in vegetables, seafood, fruits, whole grains and olive oil. Those on a Mediterranean diet also consume dairy, meat and wine in moderation.
An active lifestyle is also a component of the Mediterranean diet/lifestyle. This includes building relationships with friends and family through shared meals. Daily movement is also part of the lifestyle, such as going for a walk during lunch break or biking to work. It is less about a gym routine or a particular exercise and more about simply being active.
What Can You Eat on a Mediterranean Diet?
• Vegetables, a great source of antioxidants, are a staple of every meal, whether raw, grilled, steamed, sautéed, roasted or pickled
• Fruits are a great source of fiber and antioxidants
• Fish and Seafood packed with omega-3-fatty acids (salmon, artic char, sardines, oysters and mackerel)
• Poultry, in moderation, is a good source of lean protein
• Eggs, in moderation, are a good source of protein and antioxidants
• Whole Grains (brown rice, oats, quinoa, farro, and buckwheat) contain fiber and antioxidants
• Nuts and Seeds are a great source of fiber, protein and unsaturated fat
• Beans and Legumes are a great source of fiber and protein
• Healthy Fats (Olive oil and canola oil)
• Dairy, in moderation, is a good source of protein (cheese and yogurt)
What Can't You Eat on a Mediterranean Diet?
• Refined/Processed Grains (white bread and refined wheat pasta)
• Added Sugar (soda, candy or table sugar)
• Unhealthy Fats (margarine and butter)
• Processed Meats (sausages and hot dogs)
You Are What You Eat
The potential benefits of a Mediterranean diet continue to grow. There are studies that show its benefit beyond just your eye health. It is thought to be preventative of heart disease and stroke. There is a decreased risk of developing Alzheimer's in those that adhere to a Mediterranean diet. The risk of developing Parkinson's disease is cut in half. It is protective against type 2 diabetes. It also promotes longevity.
The doctors at Summit Eye Center routinely care for patients with AMD as well as other conditions of the eye. If you would like to schedule an appointment, call 816-246-2111 or email This email address is being protected from spambots. You need JavaScript enabled to view it.. Follow Summit Eye Center on Facebook, Twitter and Instagram at the handle @summiteyekc. Stay healthy Kansas City.